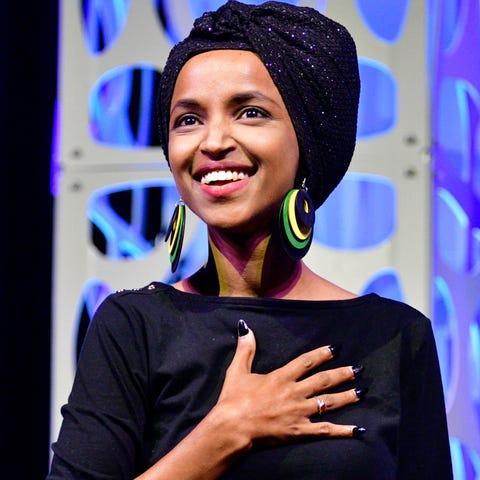 Many of us were surprised recently when Congresswoman Ilhan Omar praised President Donald Trump for, in her words, his "incredible" response to the Corona Virus pandemic in America.
"Politics aside, this is incredible and the right response in this critical time," Omar tweeted on Wednesday, March 11.
What is Omar so enthused about? The actions of the Republican President of the United States, a man Omar has often criticized and denounced for his neanderthal capitalist ways. Now all seems forgiven, thanks to Trump's actions to suspend mortgage foreclosures, sending direct payments to American households, and invoking the Defense Production Act to make the private sector to manufacture badly needed medical supplies.
Omar continued her rave review of Trump's emergency policies in another tweet in which she invoked fellow "Squad" member and Massachusetts Congresswoman Ayanna Presley, who said "Unprecedented times require unprecedented leadership." According to Omar "We are seeing that in our country right now. I have faith that we will survive this as a nation and build together,"
Omar's final tweet was a call for unity: "We should never let politics get in the way of good policy. This is a great start and I hope others will be part of a united front to push for good policies that will help us work through the economic anxiety the country is feeling right now,"
These are inspiring words from an unusual – and usually suspect – source. The cynic wonders what Omar is trying to gain by praising the President. With an election looming, and opponents lining up to take her seat, Omar may need to reach the middle class instead of appealing only to her woke supporters, who seem willing to turn a blind eye to the scandals that have plagued Omar from the time she took office: repeated anti-Semitic remarks, charges of immigration fraud, illegal use of campaign finances, and most recently, Omar stealing a woman's husband away from her, and divorcing her own husband in order to marry her new flame.
So it is tough to be Ilhan Omar these days. It is understandable that she might want some good press for herself, even at the risk of irritating House Matron Nancy Pelosi. Or it could be that Omar is sincerely happy about Trumps attempts to help workers and the common man. One assumes she was in favor of Trump's stimulus package, which passed the House in an "aye vote." It will be interesting to see if Omar's future remarks and acts remain as bipartisan as she has been lately. Stay tuned.